In less than a hundred years since the Prophetic Hijrah, during the 'Golden Age of Islam' the vastness of the Islamic Empire expanded all the way to Europe. Muslims from North Africa, under the leadership of Tariq bin Ziyad, conquered Spain and brought along with them their system of governance and law as well as beautiful architecture and vibrant culture.
 Journey with us and visit the Iberian Peninsula, Al-Andalusia, and explore the abundant Islamic history of Seville, Cordoba, Ronda, Granada and more. An 8-day tour bringing the history and heritage of Muslim Spain to life. See for yourself how over 700 years of Muslim rule left a legacy of Islamic Spain that remains today in the beautifully ornate mosques and palaces, as well as the rich local culture.
Safeguarding Your Health on Your Journey is our Priority

Temperature checks will be taken before trips for your safety.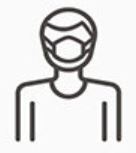 Wearing masks on your journey helps keep everyone safe.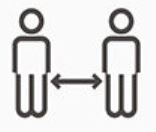 We're committed to facilitating physical distancing.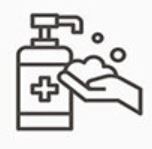 All guests and staff are to adhere to sanitizing procedures at all times.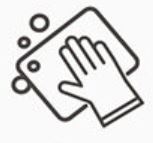 We're adhering to best practices for cleanliness and disinfection.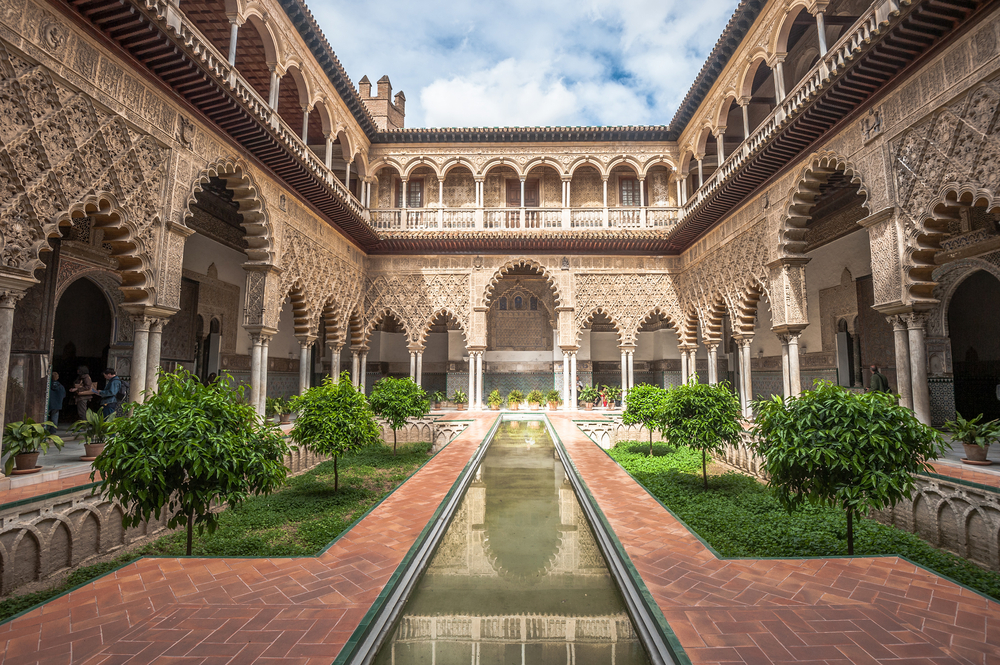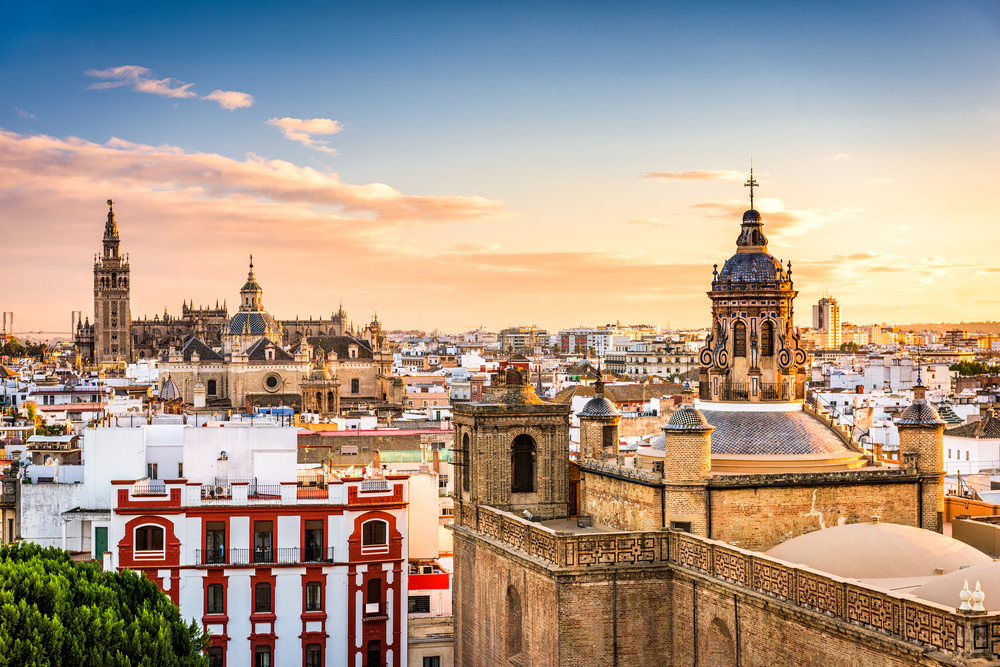 Seville houses one of the most famous and iconic remnants of Islamic Spain – the Real Alcazar, or Royal Alcazar – a remarkable palace built by the Muslim ruling class in the 8th century. It is a fine and unique example of Mudéjar art – a style, deeply rooted in cultural diversity and originating from practising Muslims living in Christian territories in historical Spain.
Marvel at the Seville Cathedral, originally AlJama Mosque constructed by the order of the Almohad caliph Abu Yaqub Yusuf. Admire the Giralda, now a bell tower for the cathedral, but originally the minaret of the mosque, and in its time the tallest tower in the world, designed to resemble the minaret of the Koutoubia Mosque in Marrakesh.
One of the world's greatest Islamic buildings and a UNESCO World Heritage site, the Mezquita, or Grand Mosque of Cordoba, is a symbol of the worldly, sophisticated culture that flourished here more than a millennium ago, in the 8th century, when Córdoba was capital of Islamic Spain and western Europe's biggest, most cultured city.
The design evolved for around 200 years to its final form as the Grand Mosque, until it was repurposed as a cathedral and altered accordingly. One of the most famous features of the building is its 856 double arches that are modelled on the Dome of the Rock in Jerusalem. Mezquita-Catedral de Córdoba remains a truly mesmerizing building that exudes history, culture and opulence.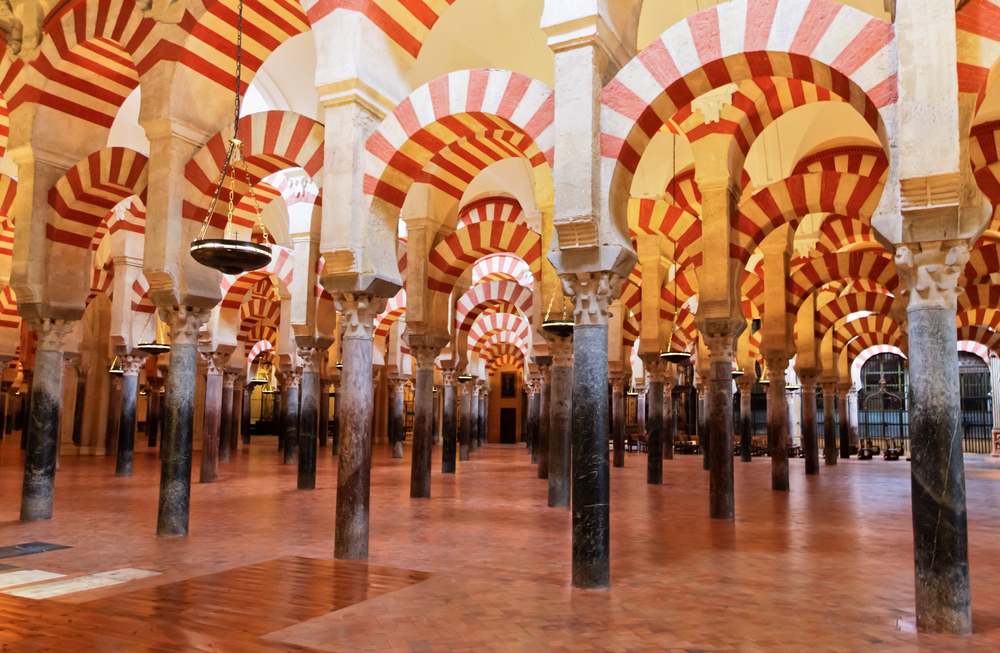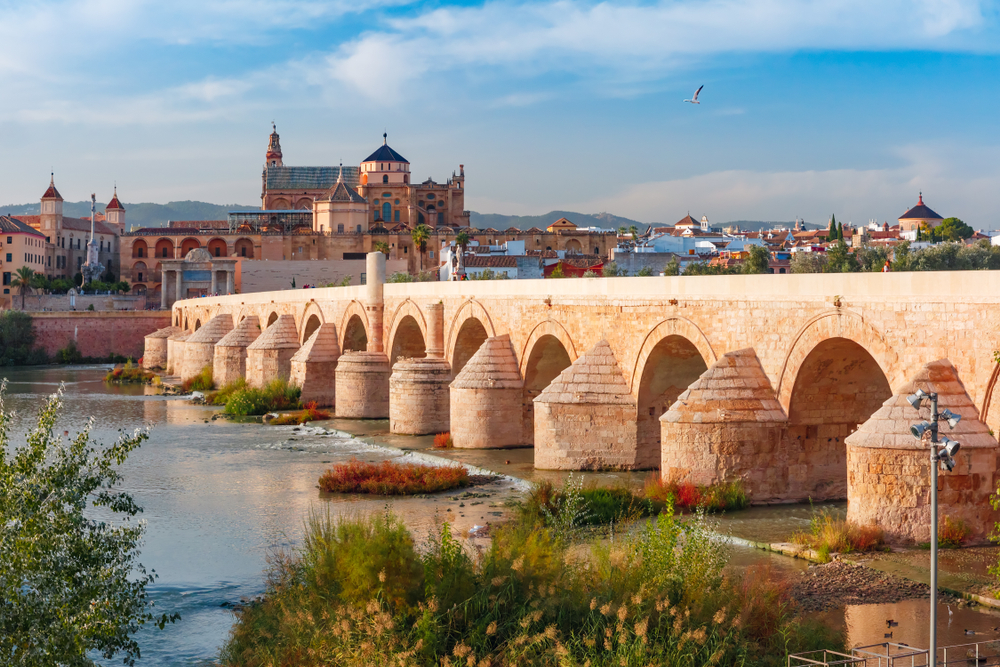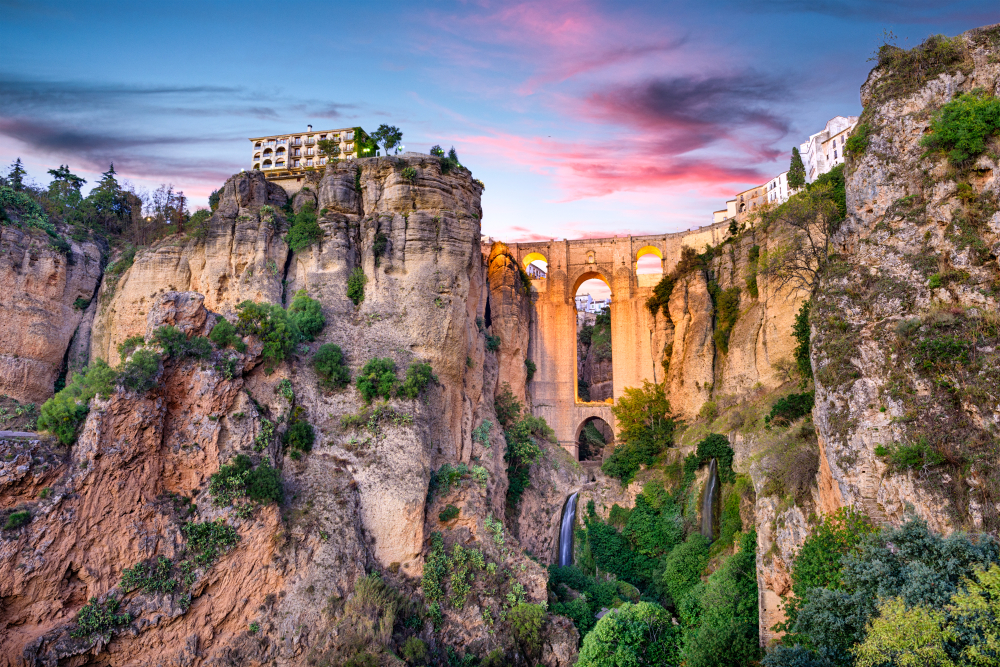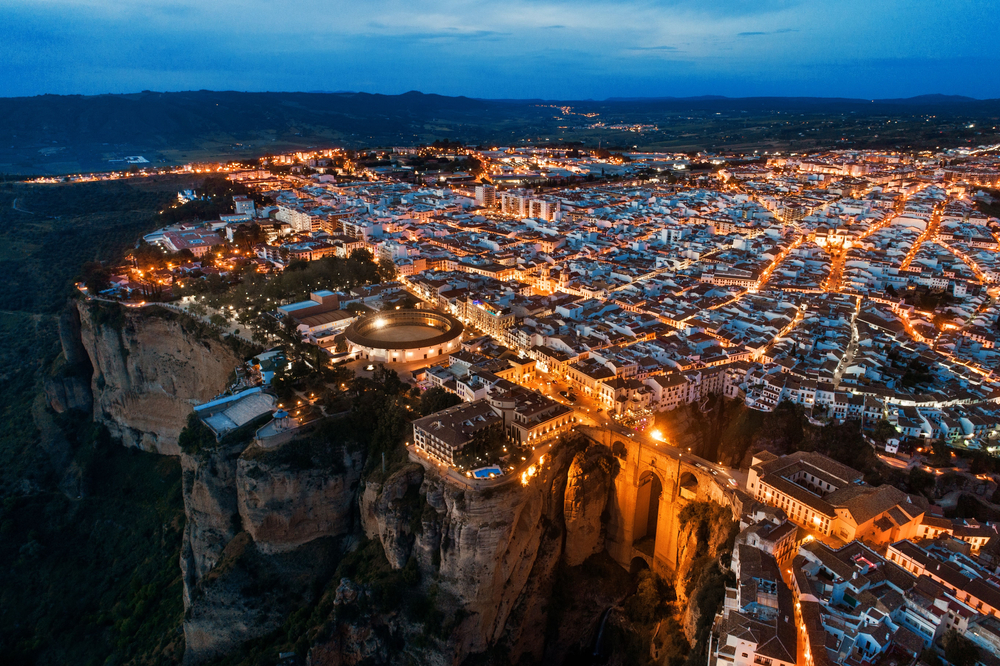 Ronda, spectacularly located atop El Tajo gorge and overlooking most of the region, has a rich Islamic heritage which can be seen through its magnificent architecture, with most of it being created after the fall of Cordoba's caliphate, when it became Taifah Ronda, an independent Muslim kingdom. The town is famously known for the best-preserved bathhouses (hammams) of that era in the whole of Spain as well as for being the birthplace of celebrated polymath, inventor and engineer Abbas ibn Firnas.
The 17th century Puente Viejo, the Old Bridge, also known as the Arab Bridge, crosses over the Guadalevin river. The breath-taking scenery, the surrounding mountains, the flowing river, coupled with rich history and warm culture, make Ronda a definite stop for anyone touring Islamic Spain.
Granada, the last stronghold of Muslims in Spain, is filled with exquisite architecture and serene surroundings telling of a historic time in which Muslims ruled over this region. Every turn speaks of remnants of this age and the prosperity enjoyed by the people living there.
You'll be taken back to this time as you walk through the picturesque arches, stroll through the Arab quarter or drink tea at one of teterías of Albayacin.
The iconic and astonishing AlHambra, standing at the foot of the Sierra Nevada, Spain's highest mountain range, is a jewel in the crown of Islamic Spain. Developed in the 13th century, Alhambra, a series of palaces, citadel, gardens and orchards, was the residence for the Nasarid sultans and elites, the last remaining Muslim dynasty in Al-Andalus. The profound beauty in its architectural design, intricate detail and engineering leaves visitors in awe of its allure.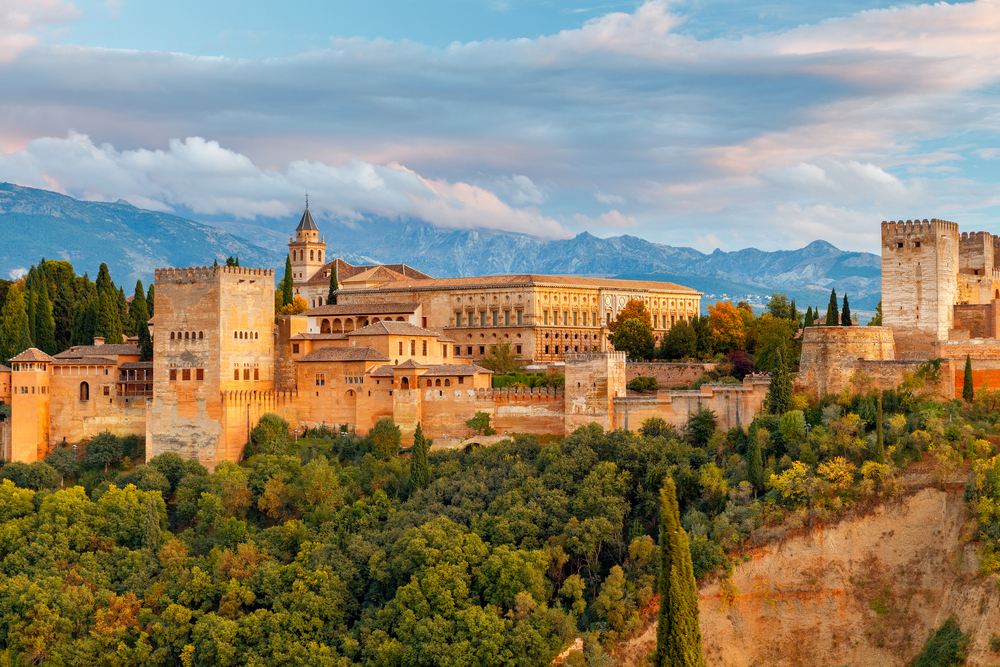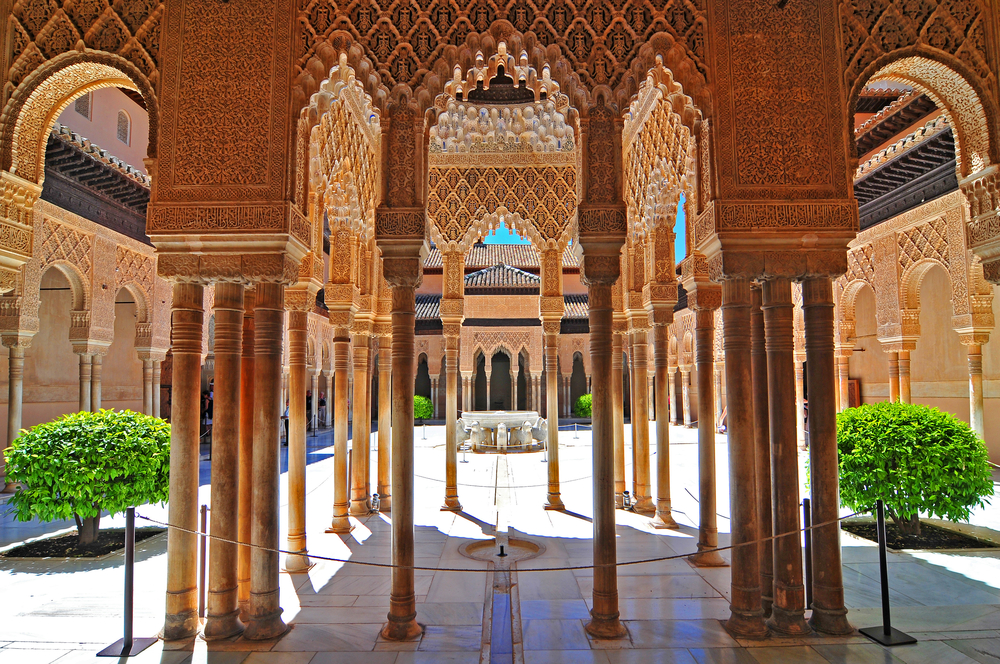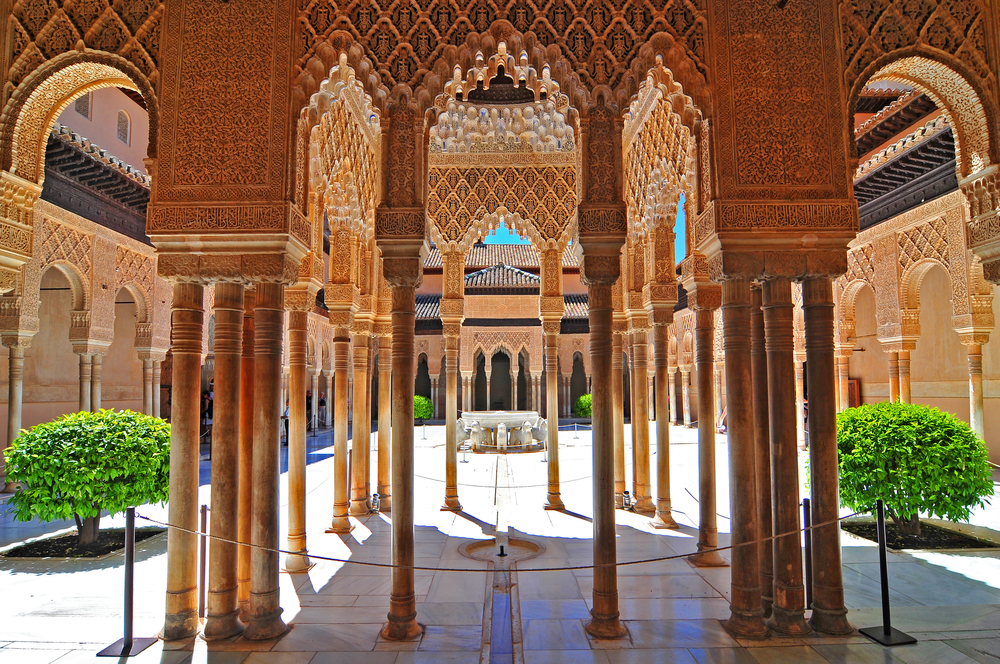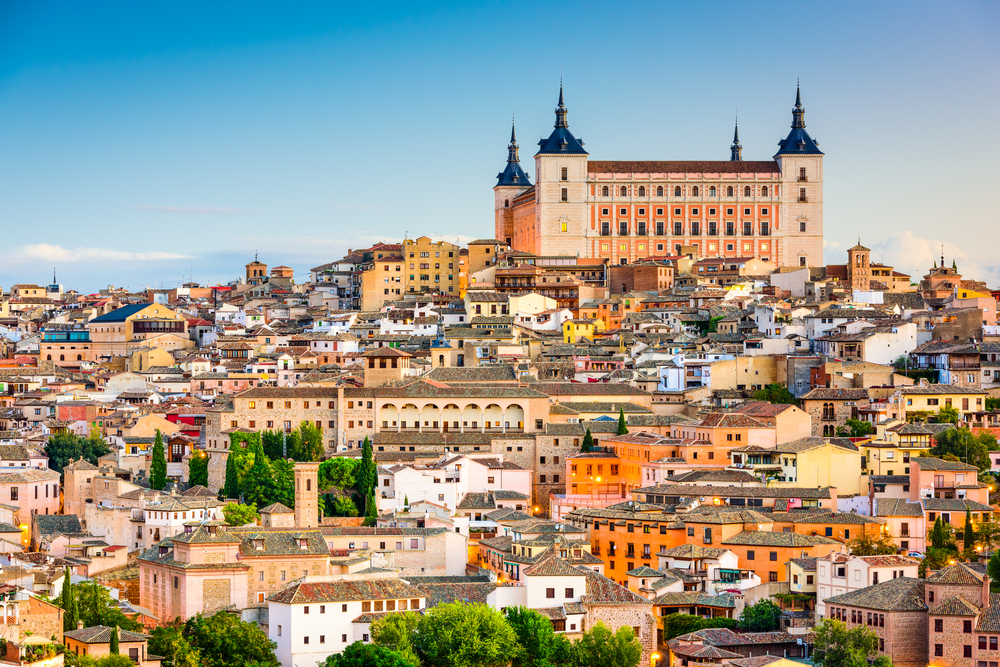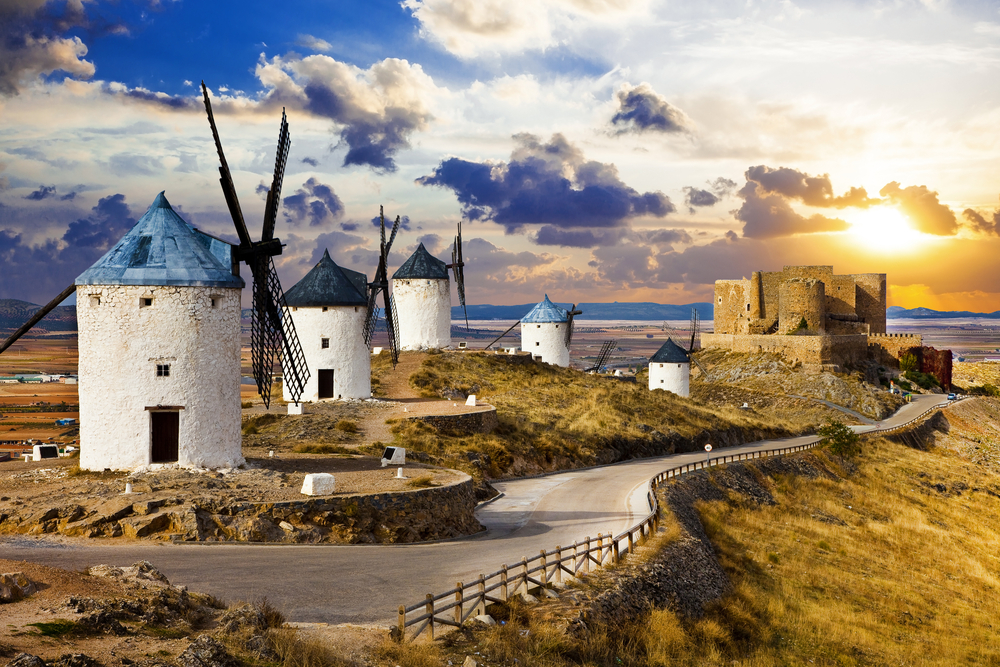 Known as the 'city of three cultures' due to the peaceful coexistence of  Christian, Jewish and Muslim communities for centuries. Toldeo's magnificence comes from the numerous mosques, synagogues and churches alongside its palaces and fortresses. Amongst the most famous are the Catedral Primada de Toledo, a gothic cathedral, the Mezquita del
Cristo de La Cruz, the Mosque of Christ of the Light, a 10th century mosque and the Santa María la Blanca, a former synagogue built in the Muslims style of construction.
Gaze in wonder at the rich and diverse history of Toldeo that exudes out of its buildings, landscapes and culture. A UNESCO World Heritage site, still preserving its original layout and accessible through its narrow, winding streets, Toldeo will leave you deeply fascinated with Islamic Spain.
Rawdah Travel Spain Feb 16 – 24
AIR & LAND PACKAGE
February 16 – February 24
| | |
| --- | --- |
| Triple | $2,455 per person |
| Double | $2,565 per person |
Child rate no bed: $995 per child ages 2-9 years old, above 9 years old Adult rate. Under 2 years old is FREE
LAND ONLY PACKAGE
February 17 – February 24
| | |
| --- | --- |
| Triple | $1,655 per person |
| Double | $1,795 per person |
Child rate no bed: $995 per child ages 2-9 years old, above 9 years old Adult rate. Under 2 years old is FREE
Trip at a Glance
Day 1 Arrival Seville
Arrival at Seville airport. Welcoming and panoramic tour of Seville, check in, freshen up and spend the afternoon exploring Seville. Overnight in Seville
Day 2 Seville 
Breakfast. Morning visit of Seville former Muslim quarters, Giralda tower neighborhood, Plaza de España, Torre del Oro and Royal Alcazar guided tour. Lunch time. Visit the Mosque of Seville for prayers. Afternoon free and easy at the city center Dinner.
Day 3 Seville – Cordoba 
Breakfast. Morning transfer to Cordoba 1:30hours aprox Morning tour of the Old Mosque of Cordoba and old quarters. Lunch time.. Afternoon of Madinat Az Zahra. Rest of the afternoon free and easy for self exploring the old quarters. Overnight in Cordoba.
Day 4 Cordoba – Granada 
Breakfast. Morning transfer to Granada, after check -in we ill spend the afternoon tour of the Albaycin quarters and the central Mosque of Granada, with a special presentation and welcoming by the Director of the Mosque. Overnight in Granada
Day 5 Granada 
After breakfast we will make our way to the Alhambra. Usually the Highlight of the tour for many. Nominated a wonder of the world the visit to the Palaces, gardens and fort will leave you breathless. The visit to the Alhambra can take up to 4-5 hours. Overnight in Granada
Day 6 Granada – Toledo
Breakfast. Morning transfer to Toledo. Lunch on the way. Afternoon visit of famous Mirador del Valle, Plaza del Zocodover & Damasquinado workshop. Overnight in Toledo.
Day 7 Toledo – Madrid 
Breakfast. Morning transfer to Madrid. Tour of Madrid's city center, Plaza del Sol, Plaza Mayor, Mercado de San Miguel, Barrio de los Austrias and Royal Palace. Lunch time. Afternoon
visit of Madrid's central Mosque.
Day 8 Madrid- Home
Early morning you will be transferred to Madrid airport to take your flight back home.
Our Andalusian experience comes to an end with final farewells.
Inclusions/Exclusions
PRICE INCLUDES:
Accommodation on Bed and Breakfast basis 4* in Seville, Córdoba, Toledo and Madrid:
Accommodation on Bed and Breakfast basis 5* in Granada:
2 nights Hotel in Seville
1 nights Hotel in Cordoba
2 nights Hotel in Granada
1 night Hotel in Toledo
1 night Hotel in Madrid
Transfers by Bus
Group Transfer Seville Airport-Hotel in Seville (designated group pickup time)
Seville Hotel-Córdoba Hotel
Córdoba Hotel-Granada Hotel
Granada Hotel-Madrid Hotel (designated group dropoff time)
Group Transfer Toledo Hotel-Madrid Airport
Tours (Guide, entrance fees and transport)
EXCLUSIONS:
International Airfare
Lunch and dinners except dinner last night
Tips
Drinks
Any other item not mentioned in the trip details
*In case of any quarantine due to COVID all expenses are not included for any days
Roundtrip International Flight Not Included
Please contact our offices for International ticket options from your local gateway
I'm deeply thankful for all your kindness in assisting and guiding through this journey. May Allah bless you and all your loved ones with the best in this world and the next Ameen JAK.
Thank you Dar El Salam for everything you have been amazing in every way and may Allah bless you and jazakom Allah Khairan .